2019 Fall Women's Wellness Getaway: November 7-10
Featuring three days and three nights of group wellness coaching, guest speakers, clean farm to table plant-based food, yoga, massage therapy, rest, and relaxation on the gorgeous rolling hills of Leipers Fork, TN; this getaway will leave you feeling refreshed, renewed, and inspired!
(For more details on the Women's Wellness Day~ for Postpartum Moms, click here.)
This year's Fall Women's Wellness Getaway theme is Happy Healthy Hormones!
We all want to feel in control of our health...
That's why hormonal imbalances and infertility struggles are so hard. They challenge us to the core, steal our stability, and leave us feeling defeated.
This is your chance to take a moment to breathe, surround yourself with support, and pour into your well-being.
Whether you're wading through the physical symptoms, (hot flashes, night sweats, mood swings, digestive issues, hair loss, muddled thinking, fatigue, painful, or absent cycles),
OR the emotional weight of searching for answers and relief,
You don't have to do this alone!
During our time together, we'll relax, build relationships, and focus on optimizing your hormonal health.
This getaway has been designed with high-achieving women in mind. You manage all the things: work, relationships, and keeping your home life going; this is your opportunity to take a moment to refuel.
"Before the weekend, I felt tired, stressed, and stuck. Over the weekend I've gained peace, attainable goals, energy, and inspiration" ~Bryn S.
You have a lot on your plate. The last thing you need is to feel uncomfortable, run down, or sick! This weekend, filled with clean food, group wellness coaching, guest speakers, and cooking lessons, will inform your nutritional choices to strengthen your gut health and immune system, support your hormone functioning, and simplify your food life (because who has time for hours of menu planning and prep?!).
While vegan, gluten free, and dairy free options will be available, please let us know if you have any particular dietary restrictions, or allergies.
Anna will reach out to you prior to the getaway regarding your specific needs.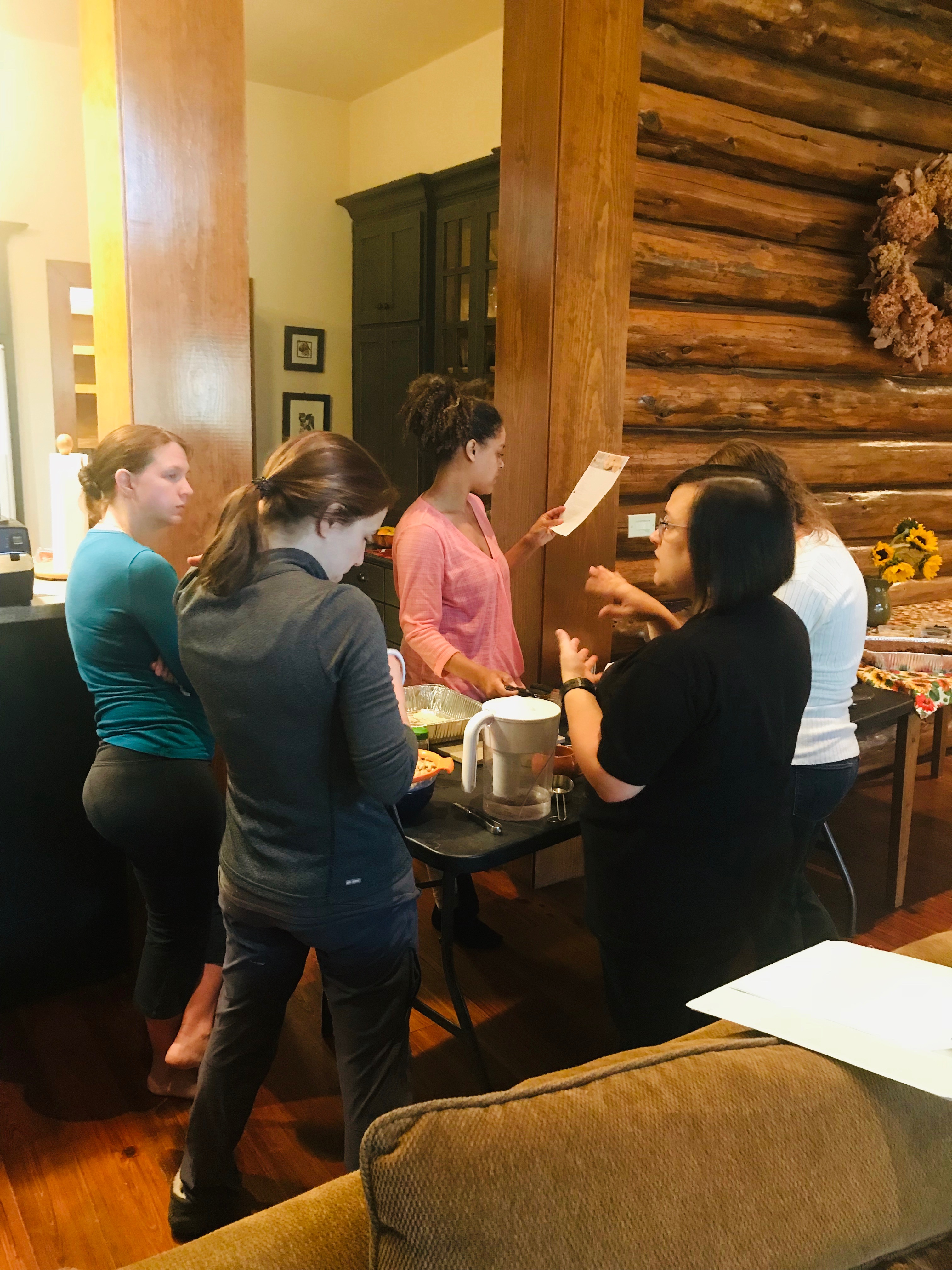 Are you running on fumes?
Sunrise + sunset yoga sessions, and peaceful scenic trail walks, will ignite your energy as you move your body, and explore something new.
"I felt overwhelmed and tired. I haven't put myself first since motherhood. I was unhappy with my life. Before the weekend, I felt depressed hopeless. Over the weekend I've gained self-confidence and a clear vision of what I want. As I leave the women's wellness weekend I feel hopeful and relieved." ~Shelby B.
Guided journaling enables you to dig deep and reflect on topics such as: reconnecting with your vision and values, inviting more joy and ease into your productivity, and creating small shifts to move you closer to your meeting your goals while staying balanced.
We weren't made to do life alone!
Partner work allows you to build supportive relationships with like-minded women.
Group discussions, guest speakers, and wellness coaching, will be themed around hormonal health specifically geared towards supporting each individual participant, to ensure you get exactly what you need.
"As I leave the getaway I feel motivated, more confident, and better prepared." ~Lauren M.
To top it all off, massage therapy and relaxing time at the pool/lake, or sauna/Jacuzzi will help you catch your breath, eliminate stress, and recharge!
"Over the weekend I've gained stillness, inner quiet, and permission to move forward." ~Cassie K.
This year's Fall Women's Wellness Getaway, will take place November 7-10th on the gorgeous rolling hills of Leipers Fork,TN!
Escape alone, to prioritize your own mental, emotional, and physical well-being.
Or give as the perfect gift! Invite your mother/daughter/sister/friend for a special self-care getaway!
SPACE IS VERY LIMITED! First come, first served.
---
Agenda
(subject to change based on weather, availability, and group preferences):
---
Thursday, November 7
4:30 pm Check-in, Welcome Bag pick-up, Get settled in
Opening Circle- Intro's: Let's get to know one another!
5:30-6:30 pm Dinner Available with Well Chat Group Conversation
6:30-7:30 pm Restorative Sunset Flow
---
Friday and Saturday, November 8 & 9
6:30-7:30 am Peaceful Sunrise Yoga (optional on Saturday morning depending on group preferences. We will enjoy sleep on Friday morning.)
7:30-8:30 am Quiet Time for Reflection/Prayer, Rest or Individual Journaling Prompt ~Massage
Morning Snack Available
8:30 am-9:30 am Brunch Cooking Demo, Well Chat Group Conversation
9:30 am-10:30 am Themed Partner Work or Journaling Prompt ~Massage
10:30 am-11:30 am Group Coaching Session
11:30 am-12:30 pm Brunch with Guest Speaker
12:30 pm- 3:30 pm scenic trail walk, refreshing outdoor activity
Afternoon Snack Available
3:30 pm- 4:30 pm Themed Partner Work or Journaling Prompt ~Massage
4:30 pm- 5:30 pm Group Coaching Session with Dinner
5:30 pm- 6:30 pm Break
6:30 pm- 7:30 pm Sunset Yoga
8:00 pm- 9:00 pm Essential Oils with Art Therapy on Friday
Bonfire and Closing Activity Saturday
---
Sunday, November 10
6:30-7:30 am Peaceful Sunrise Yoga with Meditative Sound Bath
7:30-8:30 am Quiet Time for Reflection/Prayer, Rest or Individual Journaling Prompt ~Massage
8:30-9:30 am Closing Circle
Morning Snack Available
10:00 am- *** Check-out***
10:30 am- 4:30 pm Women's Wellness Day~ for Postpartum Moms
Getaway participants are welcome to stay and play!
---
Your registration includes: Accommodations, Group Wellness Coaching and Activities before check out, Clean Food, Daily Yoga, Massage Therapy (price and tip), Transportation to and from the Nashville airport~BNA (with prior arrangement).
Your registration does not include: Airfare/Travel to and from the Nashville area
"As I leave the women's wellness weekend getaway, I feel recharged, relaxed, empowered, and grateful." ~Leah B.
For more information, to register and save your spot,
click here to schedule your chat with Anna today!
---
---
Aubrey's Journey Aubrey's goals were to grow her family, simplify their food life, and create better time management+ work-life balance. After our time together she said,
"I'm spending less time in the kitchen, and now I can spend more time with my daughter, or husband, and on other things. It also leaked over into my business, and my life too…. In food, and in work and in parenting… that does open up more time to play… that was what really helped me!
I'm 21 weeks pregnant today! It's helped me learn to listen to my cues, and have healthier options that weren't chips or ice cream.
(I would recommend this to) anybody that just has a lot on their plate…. with mix a work, and life, and parenthood."
Lauren's Journey:

"The sessions were really eye opening, and really showed me ways to focus on the little things in life that I could make changes instead of having to change everything about everything I do every single day... I have a better outlook when I Iook at food. I do have a huge list of recipes... I would definitely put this to women who work full-time, moms that have full time jobs outside the house that need some sort of way to reduce their stress through time management, and changing the little things in your life..."
Shannon's Journey: "I was living on pizza and cereal... I wanted to feel better, and healthier and have more energy, and feel better about myself... I felt like you understood where I was coming from and the struggles that I had and the reason behind why I was eating the way I was out of convenience and habit Then you didn't try to revamp everything I ever ate...it was nice that I could slowly work towards the changes I wanted to make without doing anything drastic that I would have abandoned. .... Total revamp of how I look at life, and how I look at food, and where I find my peace and joy. I lost 51 pounds. I sleep better. I have more energy. My joints don't hurt. (I would recommend this program to) people who are stuck.... anyone is struggling with how to do enough nutritionally, and the right portions, and how to do it in day to day life. I appreciate you helping to get me where I am healthy and happy again!"
Christina's Journey:

"I was not really knowing what direction to go. I was hoping to find different ways to exercise, and be encouraged... to have a mentor and someone to have my back, and check on the diet I was eating, and give me suggestions as to different ways to modify, and different ideas of how to go about getting my meal planning together. I really had a great time! You are so nice and comfortable. I felt an immediate friendship with you. I have found a better way to motivate myself... the best ways to get my nutrition. I think this is for everybody, from healthy people..to the beginner..to the middle: who know what to do, but need the kick to do it! Your support, and your kindness, and the way you were willing to find answers to my questions, or even things I hadn't thought of... I just really recommend you to anyone!"
---
---

Anna Shalray, is a loss and rainbow mom, partnering with women to optimize hormonal health, brave the challenges of medically and/or emotionally complex pregnancies, and create a nourished postpartum season, utilizing the tools of her training as a Certified Holistic Health Coach, and RYT-200hr and Pre/Postnatal Yoga Teacher.
Connect with Anna,
HERE
.